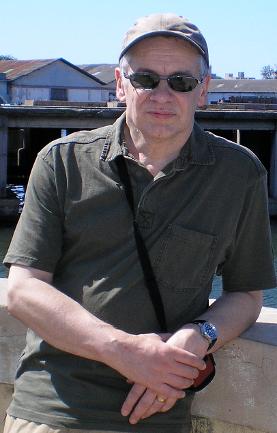 Ken Edwards
KEN EDWARDS is a writer and musician. His many books are listed on his personal website/blog. He ran the small press REALITY STREET, which published more than 60 titles comprising mainly poetry but also other sorts of imaginative writing, between 1993-2016. Reality Street continues, but no longer publishes new titles. These days Ken plays bass guitar with the St Leonards-based band Afrit Nebula.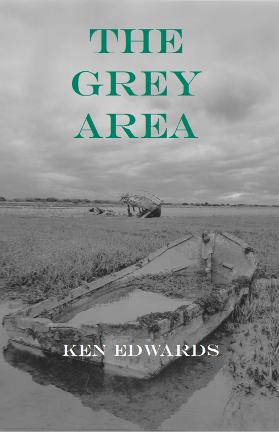 THE GREY AREA
Ken Edwards
Despite being subtitled "A Mystery", Ken Edwards' third novel is no conventional crime story and the mystery seems incapable of any single solution. An old and vulnerable woman has gone missing, and a private detective, Phidias Peralta, an illegal resident in a business park near the run-down port of Deadmans Beach, has been hired by her nephew to find her. His assistant, Lucy, is more concerned with her seven-year-old son who is failing at school, but she is drawn inexorably into the investigation.
Review by Guy Russell (Tears in the Fence)
"It surely is a remarkable book, for all its modest‑looking format, and I have been very stirred in thinking about it as I have followed its narrative through the loops and turns across which it runs. Its effect has both roused me to acute states of regard and at the same time has puzzled me a great deal.... Yet I obscurely feel it to be important, deeply and profoundly close to something other than what it is or at least seems." – JH PRYNNE on Ken Edwards' first novel Futures
"This is an eerie world where the style of Paul Auster meets that of Douglas Woolf: the landscape, brutality and barely submerged violence conjures up the world of Auster's The Country of Last Things while the quiet but determined humour of domestic engagement brings to mind Woolf's Ya! .... This novel is wonderfully funny in places and it allows the reader to produce his or her own key to characters that play out their roles on a stage of such poignant shifting moments."– IAN BRINTON on Ken Edwards' Country Life
978-1-874400-76-9 328pp 2020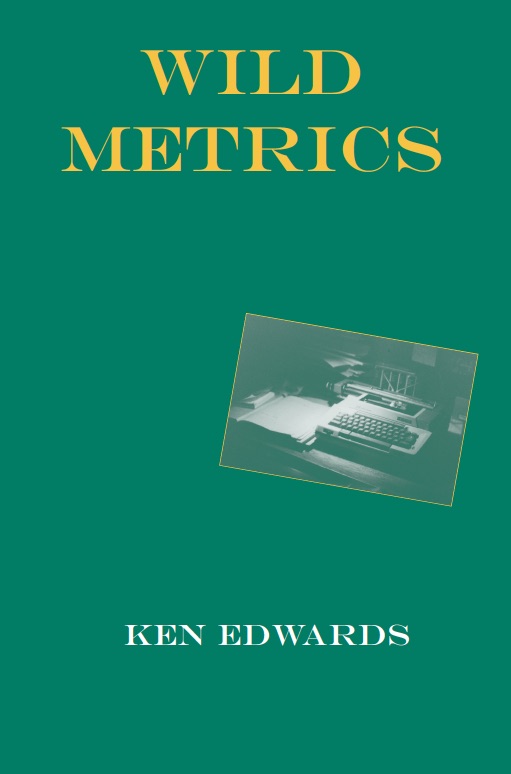 WILD METRICS
Ken Edwards
1970s London: short-life communal living, the beginnings of the alt-poetry scene, not forgetting sex, drugs and rock'n'roll. This prose extravaganza dives into the inscrutable forking paths of memory, questions what poetry is, and concludes that the author cannot know what he is doing. Among the cast of characters are a Rock Star who has become a national treasure, a bunch of poets and writers, some now legends, and assorted other misfits and malcontents. Some names have been changed.
"As you might expect, there is some sex, a few drugs, some rock 'n roll, but none that seem as satisfying as the final section, which is essentially a series of brief essays about life, poetry and everything. It's in these final pages that it becomes most explicitly apparent that as much as it's a book of memories this a book about the nature of memory.... I think it should also have appeal for anyone interested in the history of 'alternative' poetries, of social living, of London, of that time in British life when the SS meant the social security office you had to attend every week or two to 'sign on' for unemployment benefit; for anyone who wants to know 'what was it like?' Ken Edwards should know. After all, he was there." – AIDAN HIGGINS, Litter magazine
"Quite often it's not merely the interpretation of a deepened understanding that gives remembered events their richness. It's the liberation we discover in the joy of putting words together, the preservation of a space in which words refer to one another without forming a closed structure. The room is dark, but a door has been left open, and the light floods in."
– JOHN OLSON, Golden Handcuffs Review
Review by Aidan Higgins, Litter magazine
Review by Anthony Howell, The Fortnightly Review
978-1-874400-74-5 244pp 2019